The Organization

Prabrajika ShaktipranaShree Ramakrishna Shanti Ashram (a registered society under the Societies Act) at Hazaribag, Jharkhand, is the parent body with its sub-centre - Sarada Ramakrishna Shanti Ashram in Berhampore in West Bengal.

The affairs of the organizantion are managed by a Governing Body with Pravrajika Shaktiprana Mataji as President. The Ashram and each sub-centre has a Secretary who are under the umbrella of a General Secretary. All activities of the Ashram are carried on under the direct supervision of the Governing Body. Besides, there is an Advisory Committee. The Annual General Meeting is held in the month of May each year.


The Governing Body
Pravrajika Shaktiprana - President
Prof. Rathindra Nath Sanyal - Vice President
Dr. D. N. Sadhu - Vice President
Swami Akhoyananda - General Secretary
Swami Suddhananda - Secretary
Sri Mihir Lal Banerjee - Treasurer
Sri Alok Banerjee - Asstt. Treasurer
Sri Tapan Palit - Member
Sri N. K. Dey - Member
Dr. Rajiv Kumar - Member
Sri Shib Shankar Goswami - Member
Sri Dipak Ghosh - Member
Sri Rabindra Nath Chakravarty - Member
Smt. Mandira Sarkar - Member
Sri Suchandan Gupta - Member
Sri Shankar Kumar Sen - Member
Smt. Gopa Sikder - Member
Prabrajika Shantiprana (Secretary, Shree Sarada Ramakrishna Shanti Ashram, Berhampur) - Member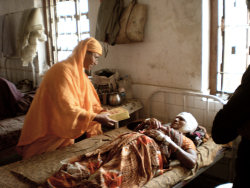 Service to humanity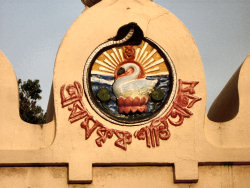 The centre of all activities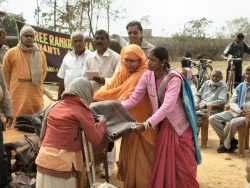 By the side of the needy
Right from inception, the Ashram dedicated itself to the service of the poor and needy and moulded its activities along the ideals of service as preached by Swami Vivekananda. It was the vision of the founder Srimat Himanshu Maharaj, under influence of the inspiration received from the Holy Mother, that the Ashram shall emerge to be a large institution in future.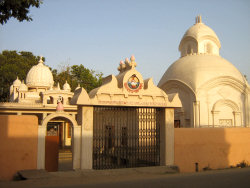 The Ashram centre at Hazaribag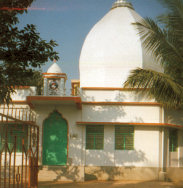 The Ashram centre at Berhampore
The Ashram at Berhampur is run entirely by nuns. Among its welfare activities are a homeopathic charitable dispensary, a primary school (upto class IV) where 60 - 70 pupils study and are provided books, tiffin and free clothes and a tailoring unit has been started where vocational employment is provided to local women from economically backward sections.