Healthcare Activities
HEALTH AND HYGIENE
To create general awareness on topics identified as important to their health sessions on female anatomy and reproductive system, hygiene, anemia and nutrition and right age of marriage and child bearing are held amongst adolescent girls in govermnent schools. Hygiene check up programmes are conducted amongst poor children of the age group 5 - 12 years in the nearby villages stressing on hygiene of hair, dental, nail, nape and ear.

COMMUNITY HEALTH PROGRAMMES
Owing to various factors, health in villages is still a neglected issue. Especially, women health has remained a critical area. The Ashram holds regular health programmes focusing on general health practices, eating habits and child care for expectant mothers as well as awareness about diseases like Leprosy, Polio, Tuberculosis and their prevention.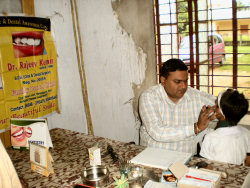 Health check-up of school children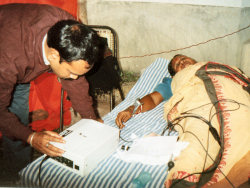 Focus on women health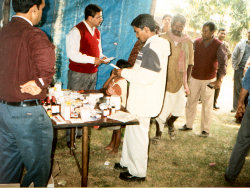 Conducting of a health camp

HEALTH CAMPS AND MOBILE MEDICAL UNIT
Free health check ups and camps for poor classes, SC/ST/OBC, tribals and slum dewellers are organized on regular basis with support from local doctors. Free medicines are distributed to patients detected with ailments. Such camps are also conducted through the Mobile Medical Unit in far flung rural areas.

PULSE POLIO CAMPS
Pulse Polio Immunization camps are held in the Ashram premises. Social mobilization activities like mothers' meetings, rallies, inter-personal counselling etc. are organized before these camps to bring more number of children in the immunization camps. Special emphasis is made on supplementary immunization activites, routine immunization, AFP case reporting and community mobilization targetting resistant and reluctant families.

BLOOD DONATION
Voluntary blood donation camps are organized in collaboration with the Red Cross Society of Hazaribag which receives good response from college students and NCC cadets.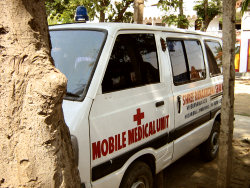 The mobile medical unit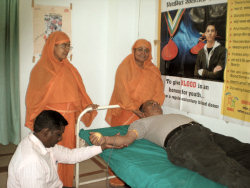 Blood donation camp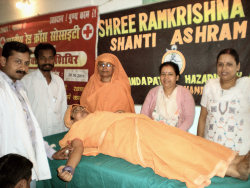 Blood donation camp