The Forces Behind
HIMANSHU MAHARAJ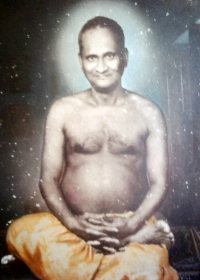 Srimat Himanshu MaharajOn the auspicious day of 'Akshay Tritiya' a young man received 'diksha' from none other than the Holy Mother Sarada Devi at Joyrambati. He was Himanshu (later well known as Srimat Swami Himanshu Maharaj), born on the 15th of January, 1889, in a village named Nabagram under the Manikganj sub-division of Dhaka (now in Bangladesh). From a very young age, Himanshu was good in studies as well as spiritually inclined.

In 1908, he left home to reach Belur Math and thereafter met the Holy Mother at Joyrambati. After a short stay at Belur Math, he went on pilgrimage. He spent about four years in hard renunciation in North India and Kashmir. He came back to Belur Math in 1913 and devoted himself to the work of Ramakrishna Mission as a Brahmachari. During the following years, he served in the Mission centres of Dhaka, Dinajpur, Mymensingh and Shillong. In 1928, he received sannyasa from Swami Shivananda, a direct disciple of Sri Ramakrishna and went out again for tapasya. He returned to Belur Math sometime in 1929 and was assigned for service and spreading the message of Sri Ramakrishna to the Mission Centres of Dinajpur for about five years and thereafter Mymensingh for the next six to seven years.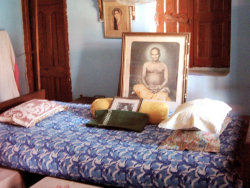 The room of Himanshu MaharajIn 1944, he came to Hazaribagh at the behest of a devotee and disciple who was staying there, recovering from an acute illness. The serene atmosphere of Hazaribagh and religious sanctity of places around made him stay for a year. In 1945, he went back to East Bengal and thereafter to Varanasi, to come back to Hazaribagh in 1947 to build an Ashram which became the centre of his work. He spent his time in the service of the poor and preaching the ideals of Sri Ramakrishna and Swami Vivekananda. His deveotees grew in number in places like, Jhargram, Darbhanga, Samastipur, Muzaffarpur, Ranchi, Maithon, Barrackpore and of course, Kolkata.

Himanshu Maharaj passed away on the auspicuious day of Janmashtami in the year 1971 while on a visit to Samastipur (Bihar). He left behind a number of disciples both monastic as well as non-monastic, who would carry on his work under the holy name of Sri Ramakrishna under the banner of Sri Ramakrishna Shanti Ashram.
SWAMI MUKTANANDA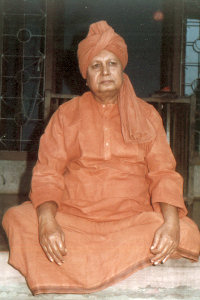 Swami Muktananda ji MaharajOne of the notable disciples of Himanshu Maharaj was perhaps unaware of where destiny would lead him to. Born on the 8th of July, 1932, at Sylhet (now in Bangladesh) Rathindra later shifted to Behala in Kolkata and began his career as a pilot in the Indian Airlines.

Rathindra was deeply touched by the ideology of Ramakrishna-Vivekananda. His unending quest for gyana would take him to places like Joyrambati and Kamarpukur - the birthplaces of Holy Mother Sarada Devi and Sri Ramakrishna. Such was he attracted to the path of salvation through karma, that he was no longer attracted by a mere materialistic job of a pilot.

Then came the biggest turning point in his life - meeting with Himanshu Maharaj, a direct sannyasi disciple of Holy Mother Sarada Devi, arranged by one of his relatives. The meeting took place in Kolkata on 14th October, 1965, and Rathindra received diksha on 17th October, 1965.

Himanshu Maharaj gave him sannyasa about two and half years later in Hazaribagh, on the day of Doljatra, 14th March, 1968. Rathindra came to be known as Srimat Swami Muktananda.

Under the influence of his spiritual mentor, Swamiji stayed in Hazaribagh to take up the work of upliftment of the poor and neglected sections of the society.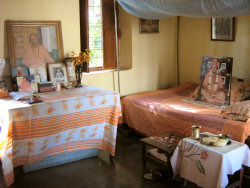 The room of Swami MuktanandaWomen and children, orphans and destitutes - who otherwise would have been lost, were given food, shelter, education in order to play the role of responsible members of the society.

"Have a look at me and you will see that my eyes are riveted on you" - Himanshu Maharaj once said to his favourite disciple.

Swami Muktananda spread the activities of the Shanti Ashram to places like Kharagpur and Berhampur in West Bengal in the forms of Sri Ramakrishna Himanshu Shanti Ashram and Sarada Ramakrishna Shanti Ashram. engaged in imparting two vital services - health and education to those who need the most.

He passed away in October 2003, leaving his unfinished task behind to be taken up by the future torch-bearers of the Ashram.